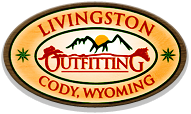 Livingston
Outfitting, Inc.
29 Pack Saddle Trail
Cody, WY 82414
307-5
27-7415
email us
Welcome to Livingston Outfitting
Livingston Outfitting offers horseback wilderness adventures for your friends and family in the beautiful Wyoming Mountains. These Wyoming wilderness adventures are conducted on horseback, using seasoned horses and mules. Your adventures could include High Country Adventures, Grizzly Bear Viewing, Trophy Fly Fishing, Full-day and Half-day Trail Rides, Horse Supported Hikes or Corporate Retreats.
Livingston Outfitting offers the best in outdoor vacations. Whether your interests lean toward fishing, Photography, lots of riding, wildlife viewing, or just laying around camp with a good book, our horseback pack trips make the perfect family vacation. You will be accompanied by a licensed, professional guide, an experienced cook and a wrangler, using gentle mountain-wise horses, to insure that your trip is a safe and an enjoyable experience. We start our trips in Cody, Wyoming and we move on horseback through some of the most pristine Yellowstone National Park areas. You will see some of the best wilderness Wyoming has to offer including the Yellowstone Mountains, Herds of Elk, Grizzly Bears, Wild Rivers and Streams filled with fish, countless birds and other wildlife.

Looking for Elk Hunting in Wyoming? Big Horn Sheep Hunting? Mule Deer Hunts in Wyoming?

Livingston Outfitting Hunting Operation